Join our waiting list to have the first choice on our next available kittens ...
To join the waiting list, a deposit of $ 500 is required and a receipt will be issued to you.
Portée de : Oriental Shorthair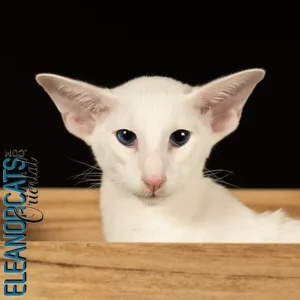 Confirmation de gestation le 28 novembre 2023
Portée prévue le 10 janvier 2024
Mom : Amourichat Navi of ELEANORCATS
Père : Shagio-Chen Magnus of Amourichat
Couleurs de chatons prévues : Blanc, Noir, Noir & Blanc, Chocolat, Chocolat & Blanc, Pointé, Chocolat Pointé
Patrons prévus : Solid, Spotted
Race : Oriental
Le prix des chatons en compagnie seront de 2500$ à 2700$ tx incl.
Il est possible de donner un dépôt de pré-sélection dès maintenant.
Ready to reserve yours?
Write to us today if you want to reserve your kitten!